Renner Firm News; December 5, 2022
Renner and Company was recently named to the fall 2022 list of the Best and Brightest Companies To Work For in the Nation.
The Best and Brightest competition identifies and honors companies that deliver exceptional human resource practices and an impressive commitment to their employees. The 2022 Fall National winning companies were assessed by an independent research firm that reviewed a number of key measures such as communication, work-life balance, employee education, diversity, employee recognition, and employee retention.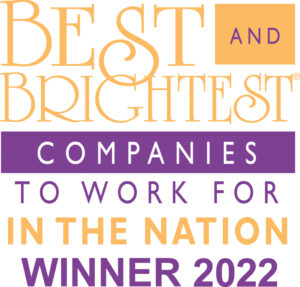 "These 2022 winning organizations have stood out during unpredictable times and have proven they are an employer of choice. They continue to keep the needs of their employees first and provide perks that include development, wellbeing, work-life balance, rewards and recognition," said Jennifer Kluge, president and CEO of the National Association for Business Resources (NABR) and The Best and Brightest Program. "In addition, these winning companies offer a fantastic work culture and workplace environment that attracts and retains superior employees."
Renner and Company was founded in 1989 by John J. Renner, II, CPA. The firm provides client-focused accounting, audit, tax and advisory services to nonprofits, businesses and individuals. Renner is respected as a leader in the local, regional and national nonprofit community and the professional CPA community.
"(The Best and Brightest award) is a good honor for the firm and a testament to what we're doing," said Andrew Young, managing shareholder at Renner. "It's a good indication that we're serving our employees and our clients and setting an example in the industry. It's good to be one of the pace setters in our region."
Renner's team members choose the firm because they are passionate about making a difference every day, whether by helping a nonprofit accomplish its mission, supporting an entrepreneur's vision, or assisting a taxpayer in solving a problem.
"Our firm's founder, John Renner, pioneered workplace flexibility, encouraging women to build sustainable careers in public accounting and become firm leaders," said Joan M. Renner, CPA, CGMA.
The Best and Brightest Companies to Work For in the Nation strives to recognize the most influential, trend-setting companies across the country, honoring 450 winning organizations out of a pool of 3,500 nominations this year.
Mr. Young said Renner and Company's "commitment to quality" and "the way we work together as a team and serve our clients" are what makes the firm a great place to work.
"There's so much positive to look forward to," he said. "This award is a good indication that we continue to make positive steps toward the future."
The Best and Brightest Companies to Work For in the Nation Winners will be honored during the virtual Illuminate Business Summit week in February 2022. With over 20 years of experience conducting the Best and Brightest competitions, the NABR have identified numerous best human resource practices and provided benchmarking for companies that continue to be leaders in employment standards.
© 2022 Renner and Company, CPA, P.C. All Rights Reserved.