Renner Firm News; November 3, 2023
It's been a busy couple months on the recruiting trail at Renner and Company.
Always looking to grow the team, Renner representatives have ventured out to meet the next generation of business and accounting students. Staff members made visits to job fairs at Virginia Tech, George Mason, George Washington and Northern Virginia Community College in the past few months.
At each job fair, Renner was represented by two to three staff members. In the process of seeking potential candidates, they also promoted the firm, educated about its team and functions and fielded accounting questions.
"Mostly, we talked with accounting major students, and a few finance or accounting (students) with double majors," said Danny Lee, a Renner staff auditor who attended a job fair at Virginia Tech, his alma mater, in September. "Even though some were not accounting-related majors, they visited our booth to know more about our firm."
Chau Huynh, also a staff auditor, said there were "definitely" more visitors to the Renner booth at Virginia Tech than last year.
"It was fun to get to interact with future accounting professionals," Chau said. "I saw myself when I was a college student in them, and I understand how nervous it could be for them to talk to us. Our team tried our best to make them feel comfortable sharing about their experience with us."
Students inquired about everything from the the firm location to the office atmosphere to the services provided.
"Some students also asked if we offered remote work," Chau said. "They were really interested in us sharing our experience as auditors, such as traveling and communicating with clients."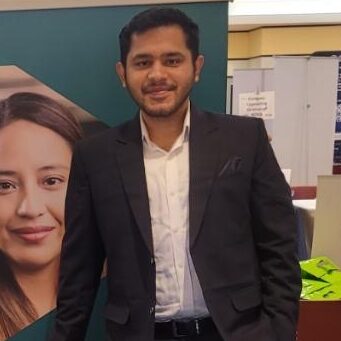 Mohit Chawla, a Renner staff accountant who represented the firm at the George Washington and George Mason job fairs, said he emphasized the value of an internship to students.
"It helps them to learn in an efficient way and you learn a lot more in the office as you get quick answers," Mohit said.
When it came to giving advice to the accounting students, Danny offered wide-ranging tips.
"I told them it's better to start thinking of which area you would like to work on between audit, tax or accounting services," he said. "We also recommend that they build their knowledge of the U.S. GAAP standard, or overall accounting knowledge in college."
On the other hand, though, if the students didn't know which area they wanted to focus on just yet, Chau assured them that's fine, too.
"We told them not to worry as Renner can be flexible in moving them between tax and audit if need be," she said.
Mohit added, "I didn't know what to do until I started working and realized I like tax over audit."
All in all, the recruiting visits were a rousing success, yielding not only some promising resumes, but new friends, contacts and lasting memories.
"It was fun to get to interact with future accounting professionals," Chau said. "As a VT alum, I felt good to be back. I got to see all the changes made to the campus and (to) contribute back to the Virginia Tech community."
© 2023 Renner and Company, CPA, P.C. All Rights Reserved.